Education & Background

Heather Polechio, CPDT-KA, CTC
Heather Polechio, one of the area's only Nationally Certified Professional Dog Trainers, has been working professionally with dogs and their humans for over ten years in the Western North Carolina area, and is the owner and operator of Mindful Mutz Training & Behavior Consulting.
Heather was an honors graduate in 2009 from the California based, San Francisco Academy for Dog Trainers and Behavior Counseling where she gained a formal education in the field of Canine Behavior and the principles of Scientific Learning Theory.
Heather has received a Nationally recognized Certificated Training Credential (CPDT-KA), as well as being a professional member of one of the largest dog training organizations in the country, The Association of Professional Dog Trainers.
As well as serving as one of five Professional Behavior Team members of the nationally held, Camp Unleashed off leash Dog Camps, Heather also proudly served as the Head Trainer for three years with an Asheville based Canine Behavior Consulting and Training company, The Dog Door, before opening her private practice, Asheville Mindful Mutz Training and Behavior Consulting.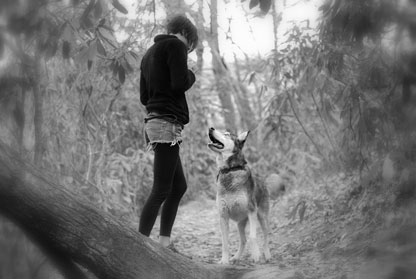 Heather has a passion for animal welfare & rescue organization involvement…
and is honored to be offered the opportunity to do ongoing educational community presentations, lectures as well as staff training programs for some of the areas non-profit animal welfare groups and shelters. Heather was honored in 2012 to be nominated as a candidate, and later approved to become a registered trainer with the nationally recognized No-Kill animal sanctuary Best Friends, based out of Utah.
Heather annually attends national conferences, such as the Association for Professional Dog Trainers as well as The International Association of Animal Behavior Consultants, to maintain educational and scientific advances continually being made in the field of canine behavior and cognition studies.
Ongoing education in this ever growing field is vital, as new and exciting advances and discoveries are continuously being made!
Heather is committed to continuing education and feels that every dog & owner deserves the most accurate information available!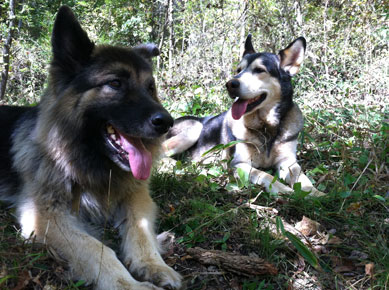 Heather is a native of the Asheville area and shares her home in Asheville, NC with her four dogs, Cosmo, a 15 yr old German Shepherd mix, Sage, a 10 yr old American Bulldog, Otchot, a 9 year old Shiloh Shepherd and Molly, a 3 year old Jack Russell Terrier, who keeps her on her game!
---